Have you looked into your company's janitorial closet lately? We mean really look? Was it dirty or difficult to access? If so, that's a problem. After all, the cleaning staff aren't the only ones utilizing the paper supplies or service sink. Poorly managed custodial closets can easily become a cluttered, dysfunctional mess. Maintaining organized janitorial closets for better facility management is one of our favorite subjects! The fact is, keeping closets in good working order should be a team effort. Any responsible cleaning company should be your partner in this process.
Ever spend 15 minutes navigating a messy garage seeking out a single tool? We feel your pain. Imagine that a customer's dog has suddenly made a mess in your lobby…you've got to address the issue…and fast. Only, you find the janitorial closet is packed. There's empty cardboard boxes. The sink can't be reached and none of the bottles have labels. Scary, right? Friends don't let friends keep dysfunctional janitorial closets. This post will break down why.
The federal authority on safe workplace environments is the Occupational Safety and Health Administration (OSHA). Surprisingly enough, they don't require training on housekeeping. Well-trained cleaners who know the reasons why a tidy workplace is important will be more diligent in their efforts.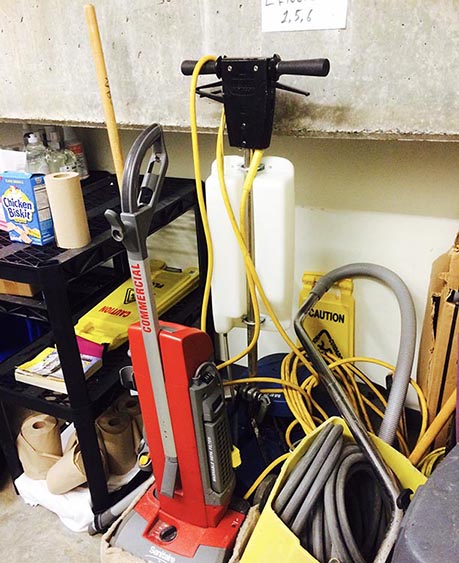 3 Essential Rules for a Better Janitorial Closet
1 – Clutter is bad!
OSHA has requirements for walking and working surfaces (1910.22). This includes the inside of your maintenance and janitorial closets. These rule consists of the following:
Cleaning areas are to be clean, orderly, and sanitary.
Floors must be kept clean and dry.
Aisles and passageways must have sufficient clearance. They are to be kept clear, without obstructions that could create a hazard.
Yes, some janitorial closets are smelly and off-putting. As such, it may never have occurred to you how vital an asset they are. Vendors such as plant care services may need access to the water on a routine basis. Day porters may pull from the inventory of bathroom supplies. In older buildings the water heater and even electrical panels may be located inside of these closets. Many people may come and go throughout the business day. When maneuverability becomes a challenge this can impede getting a simple job done, which can frustrate. People will toss things aside and shove them wherever it's convenient. Good luck finding that carpet stain remover!
2 – Keep it Clean
Ever see an open bag of chips, or maybe fast food being kept in a janitorial closet? Bags of trash sitting on the floor? This is not a good look. Trash liners can leak, creating wet floor hazards and insect infestation. OSHA has requirements for sanitation (1910.141) that include some housekeeping provisions:
Floors must be kept dry.
Disposal containers used for liquids or solids that may turn putrid must not leak, and they must have tight fitting covers.
Sweepings, waste, and trash must be removed.
No food or beverages can be stored in an area that is exposed to a toxic material.
We recommend talking with your cleaning company about where it's appropriate for janitorial staff to take their breaks. Your suite's kitchen and the insides of janitorial closets are not ideal places for cleaning crew to be taking their breaks. General tidiness and an overall awareness for others will go a long way here. Also, consider talking with your cleaning company about end-of-night procedures such as making sure the closet is reset for the next day.
3-Put a Label on it!
Unlabeled bottles full of mystery cleaning product…pink, green, blue, what? This is a hallmark of poorly managed business cleaning and a pet peeve with us at BCS. Cleaning chemicals left open? Missing lids? Or do they look like they came from an impromptu trip to Albertsons or the Dollar tree. Not good(!) The OSHA Hazard Communication Standard (HCS) (29 CFR 1910.1200(g) sets the guidelines for SDS Safety data sheets. The SDS includes information such as the properties of each chemical; the physical, health, and environmental health hazards; protective measures; and safety precautions for handling, storing, and transporting the chemical.
cleaning chemicals should be appropriately labeled with the manufacturer's sticker.
SDS information should be kept on site, in the chemical storage area.
All chemicals should be properly closed up and stored appropriately.
Remember that even green cleaning products can be toxic. More caustic chemicals are sometimes utilized when removing difficult things like mineral buildup from faucets. That's why it's important to know what's being stored in your facility.
Insider tip: you have every right to periodically peak into your maintenance closet and audit what you see. Pro-active facility management keeps your cleaning company honest and allows you to get a snapshot of how organized they are. As you give your closet an honest assessment, consider asking your cleaning company the following questions:
Would it be helpful to install more storage shelves or cabinets?
Are there any areas where food and beverages should be prohibited?
What is the scope of work for keeping the closet clean?
Final thoughts on Organized Janitorial Closets:
Better organization makes things easier to find
It's easier to notice trash, refuse, or broken items that are no longer of any use
Less clutter reduces fire risk
You have a lower risk of injuries from slips, trips, or falls
Fewer health hazards such as touching or inhaling poorly stored and labeled chemicals.
We hope this post can help get you started on thinking about organized janitorial closets for better facility management. For more information, contact one of our service consultants today.